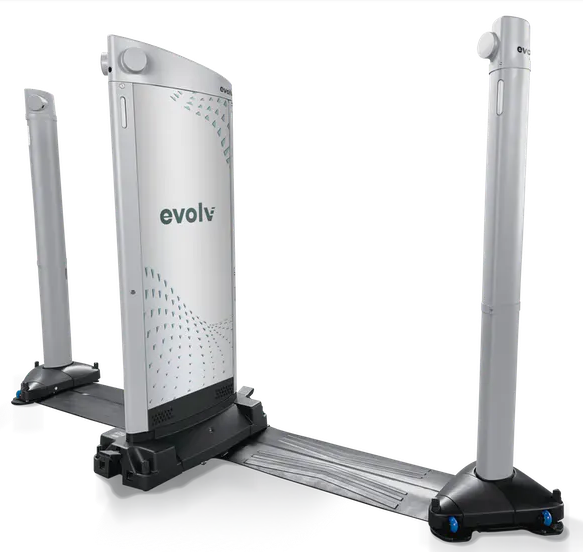 Evolv Express™
Weapon Detection System
Enhance your security procedures with powerful sensor technology, combined with proven artificial intelligence, and comprehensive analytics. All while allowing a high volume of free flow traffic and less invasive secondary search.
Schools are in the spotlight when it comes to the safety of students, teachers, and visitors.  One of the most effective ways to keep everyone safe is to screen everyone coming into buildings from any number of entrances.   Legacy systems rely on a combination of metal detectors along with invasive and inefficient wand searches.  Not only does this slow everything down, it also has ramifications of singling out certain individuals, or creating an environment 
Schools are meant to be safe spaces, both physically as well as emotionally. With Evolv Technology Inc.'s Evolv Express™, both of these requirements can be met with ease.  Ink Labs will work with you closely to install this technical solution with a team of educators that will correlate the positive social/emotional impact with the introduction of this Evolv Express™ solution.
We've been teachers and principals and superintendents in our past lives, and have a deep understanding of what a school day is like.
As has been our driving principle, we develop and curate solutions for schools that don't distract from the experience of learning and teaching.  We've partnered with Evolv Technology precisely because the technology not only keeps students and staff safe, but because it enhances their experience of feeling safe, directly addressing the social-emotional concerns of screening in schools.
We've deployed technology and trained staff of schools with only a couple of buildings, to more than 50 buildings and thousands of students.  We tailor our deployment and support to match each school's needs.
We bring school administrators, stakeholders, and users into our process of curating and developing our solutions.  We take the time to build a solid understanding of your needs and offer the best solution that most effectively meets your challenges.
Evolv Technology's touchless security screening system, Evolv Express, uses proprietary sensors and the Evolv Cortex AI™ system to differentiate dangerous weapons from harmless personal items in real-time, without slowing down operations. 
Yes. Your students, staff, and visitors can go through screening in groups or one at a time, preventing long lines from forming at the entrance to your school.
Our touchless system allows for a free-flow of traffic by consistently detecting guns and other weapons as students, staff, or visitors walk through.  There's no need to pause to empty pockets, bags, or jackets.
With the Evolv Express, there's no need to perform a full wand search.  If a threat is identified, staff can see exactly where the threat is via an computer graphic aid, be it in a pocket, or bag.  This allows for a targeted search of a specific area.  This removes the perception of anyone being singled out or the feeling of an invasive search.
Yes, the system has built-in wheels allowing it to be moved to different locations for your venue and facility needs. In addition, the optional Mobility Cart solution is purpose-built to hold up to two side towers and four tablet stands—the standard configuration for a dual-lane system. A weather-resistant cover for the larger center tower stores the two floor mats with cabling installed, simplifying set-up, transport, and storage of the systems. 
It's simple. Image-aided alarms are provided via wired or wireless tablets, providing guards with clear visual highlights of where the potential threat is on a person or their bag.  Further, Ink Labs, along with Evolv, provides operator training for staff during deployment of the system, along with training videos that staff members can review at a later date.
Let us help you with your security efforts.